Learn more about Whitney Hill
After obtaining a degree at NC State, I fell in love with and decided to settle down in the Raleigh Area. I have been living in North Raleigh for the last 34 years. After working in the corporate world as a project manager and IT director, I made the decision to go into private business pursuing a dream to be part of the local Raleigh area business community. In 1996 I founded Carolina Web Consultants, Inc., working with local businesses to market on the web and brokering credit card processing services.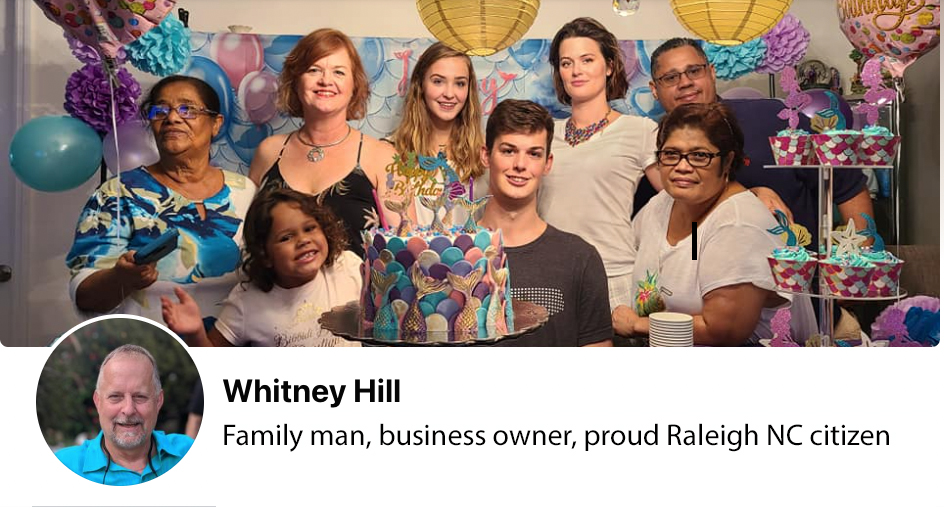 As a husband and father of three, I want to see the legacy of our great city continue to thrive. I love the Raleigh area with its wonderful parks, an abundance of greenery, and great people. I've always enjoyed the wonderful parks in Raleigh but that exploded when I bought a bicycle last year and now I can hardly wait to get back on the trail, especially taking time at our wonderful Shelley Lake Park. I love taking bike trips with my wife Dee and exploring the Raleigh area at a bicycle pace. Involvement in the church at Triangle Christian Center is a big part of my life where I have participated in various responsibilities during my 33 years.
My Accomplishments
Five years in Corporate Management
In 1996, founded Carolina Web Consultants, Inc., providing web marketing services to local Raleigh businesses
Served 2 years chairing CEO Roundtable program with Raleigh Chamber of Commerce
Served on the membership committee for over 6 years with Raleigh City Club
Member in good standing and volunteer at Triangle Christain Center
Worked with Raleigh City Club on fundraisers for Hospice
Volunteer work with Jobs for Life
Background
NC State Graduate in Computer Science
Corporate and small business background
Extensive experience in project management, information technology, and web marketing
Small Business Owner 31 years
Raleigh resident for decades
Married with 3 children
What I bring to the table:
Decades of activity as a North Raleigh resident
Extensive project management and oversight experience
Years of networking in the Raleigh business community
Experience in working as a volunteer in local nonprofits
A much-needed citizen's perspective on city government
Why I chose to run for Raleigh City Council
My primary motive for running is to make sure that Raleigh stays one of the most desired communities to live in. Business growth is good but we need to keep our community affordable and safe to live in. We want to continue to ensure that the community parks stay world-class. In short, we need to make sure that the decisions the council makes are increasing the healthy growth of Raleigh adding value to all of its citizens, not just the special interests.
Click here to read the key issues that are important to me regarding Raleigh NC and City Council District A.